Without a doubt, 2013 has been a big year for the massage therapy industry – continuing growth, Medibank Private's 'freeze' on new registrations, industry review and a proposed code of conduct. Times are changing, but are you changing with them?
Growth of Remedial Massage Industry in Australia
Remedial massage therapy has grown in popularity tremendously in Australia, particularly over the last decade. As a therapist I have seen the demand for remedial massage grow and become commonplace within multidisciplinary health practices right across Australia. In any small town or community, remedial massage has become as mainstream as the bakery or corner store. This growth has reflected the continuing development and professionalism of the massage industry, especially in remedial massage.
Medibank Private recently indicated it had 42,000 remedial massage practices registered across Australia. That is a significant number of private health fund registered services.
With this growth comes an increase in responsibility. As remedial massage therapists continue to work with broader sections of the community, the need for a broader knowledge base amongst the massage industry becomes essential.
---
Join the Bright Health Training newsletter
---
The Downside of Growth
An unfortunate flipside to this growth in popularity has been an increase in the number of fraudulent practitioners (see ATMS press release above). This lead to at least 100 practitioners being delisted with Medibank Private and their professional associations. Incidences like this have highlighted the need to raise standards and ethics required of all health professionals, including massage therapists.
Remedial Massage Industry Under Review
Regarding the review of industry standards, this year has seen significant reviews of the remedial massage and natural health industries, through the review of  both private health insurance and the introduction of a national code of conduct for unregistered health providers.
Private Health Insurance Review
The private health insurance review could be seen as a step to reduce budgetary pressure, but ultimately it means that all natural health professions have had to justify themselves to a governmental panel and explain why they should continue to receive private health insurance rebates from the federal government. Massage stands in a good position in these reviews as there continues to be a growing body of evidence of the efficacy of massage. See this Cochrane Review from one of the most rigorous research organisations in the world.
The National Code of Conduct for Unregistered Health Practitioners
Currently the Victorian Department of Health under the direction of the Australian Health Ministers' Advisory Council, is reviewing unregistered health practitioners with the aim of creating a code of conduct for these professionals. For more information please see this Australian Natural Therapist's Assoc. press release. This applies directly to all massage therapists and any other health professional not registered under the federal government. This process is currently taking place and will open for submissions in March 2014. Should you wish to be involved or have your say, contact your professional association.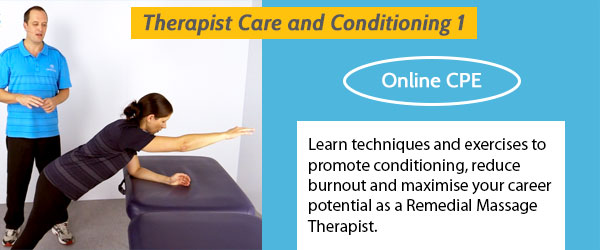 Effect of the Medibank Private Review of Remedial Massage on Newly Registered Therapists
One of results of the Medibank Private review of remedial massage was the restriction of new provider applications for remedial massage therapists. This has been a substantial hindrance to new graduates as Medibank Private is one of the largest private health fund providers in the country. One of the reasons indicated by Medibank Private is that they are concerned about the standards of training within remedial massage courses.
It is important to note that this did not affect Myotherapy. Myotherapy within Australia is essentially a distinct profession as far as the private health fund providers are concerned. Perhaps the reason myotherapy was not reviewed was due to the comparatively higher level of training and standards of the profession, which currently is a minimum of advanced diploma?
Myotherapy or Musculoskeletal Therapy?
The highest level of training within the massage field are the Advanced Diploma in Myotherapy or the Bachelor Degree in Myotherapy or Musculoskeletal Therapy. Many within the industry that I talk to see these qualifications as the natural progression of the remedial massage industry. Personally I agree, as generally with higher levels of training come higher standards and professionalism.
Whether or not these courses become the 'new' remedial massage, only time will tell.
(Update 23.01.14 – for an in depth examination of these 2 qualifications, check out my post here.)
So What Does This Mean to Remedial Massage Therapists Today?
While there is no requirement for remedial massage therapists currently registered with a professional association to upgrade their qualification, it is important to consider the next crop of therapists coming through and the level of training and knowledge they will have. If you are currently qualified as a remedial therapist, how will you measure up, and what part will CPE and training play in keeping you up to date in the industry?
One thing can be said for certain – the knowledge and skills of the remedial massage therapist require constant refining and building. To meet the ever increasing demands upon health professionals it is necessary to have the latest knowledge and training. The qualifications of myotherapy (advanced diploma/bachelor degree) and musculoskeletal therapy (bachelor degree) set a new standard for the remedial massage industry. Regardless of your qualification, there is no substitute for skills and knowledge.
If you are an experienced practitioner or a new graduate there is always more to learn to provide effective treatments and to give yourself the best chance of success in your profession. Consider this in terms of your future – how will you keep up to date and grow in your profession?