Therapist Care and Conditioning 1 – An Introduction to Physical Conditioning
$99.00
Learn techniques and exercises to promote conditioning, reduce burnout and maximise your career potential as a Remedial Massage Therapist.  GET BOOKED OUT, not Burnt Out!
Endorsed Education Activity with Massage & Myotherapy Australia
Format: Online course – study anywhere anytime.
Presented by: Aran Bright, B. Health Science (Musculoskeletal Therapy), Dip. Remedial Massage, Grad Cert Sports Coaching, …
Recognised for CPE/CEU points by:
Description
Remedial Massage Therapists > GET BOOKED OUT, not Burnt Out!
As Myotherapists and Remedial Massage Therapists… the reality is we are prone to fatigue, injury and burnout due to the demanding physical nature of practising manual therapy. You are highly skilled in the techniques to treat your clients, but do you know how to condition and look after yourself? Do you find yourself struggling to keep up, or missing out on work, due to fatigue or injury?  
In this CPE course (endorsed by Massage & Myotherapy Australia) you will be introduced to simple yet effective exercises and techniques to:
Minimise injury and burnout to yourself
Increase your capacity to practice (get more clients = increase your earning capacity!)
Maximise your career longevity and satisfaction
You Will Receive:
Access to our 13 lesson short course (unlimited access)
Video demonstrations presented by Aran Bright and additional multimedia resources
5 CPE/CEU points for AMT, ANTA & Massage & Myotherapy Australia members
5 CPE points for ATMS (accredited course)
Certificate of Completion for your records
About Your Instructor – Aran Bright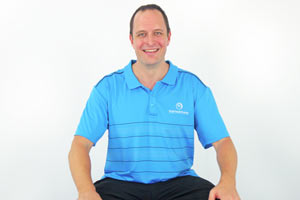 "I've got a passion for remedial massage and I love to share my knowledge! My goal is to help Remedial Massage Therapists like you reach your full career potential through increased skills and training. My particular concern is the worrying trend in our industry, 'therapist burnout'. Burnout is the current reality for many therapists, but it doesn't have to be this way. I hope you enjoy Therapist Care and Conditioning 1 and see some immediate improvements in your daily practice."
Aran is our lead course creator here at Bright Health Training. He holds the following qualifications: B. Health Science (Musculoskeletal Therapy), Dip. Remedial Massage, Grad Cert Sports Coaching, Level 2 Sports Coach – Australian Sports Commission, Cert IV Personal Training, Accredited with ANTA (Australian Natural Therapists Association). He has worked with Cricket Australia, Queensland Cricket and Brisbane Lions and has created academic course material for some of the big names in health and fitness education such as Endeavour College of Natural Health and Fitness Industry Training.
---
Lesson Video Previews
These videos are sample versions of 4 lessons taken from the course. The courses provides 13 lessons, all with video demonstrations.




---
CPE Short Course – Minimise Injury & Maximise Your Career Potential
Did you know – a massage therapist may work in the industry for an average of ONLY 3.5 YEARS?* (Source: Australian Association of Massage Therapists Article.)  That is a incredibly short career considering the time effort and money invested in education, accreditation, health fund recognition and continuing professional education (CPE).
The question we are hearing from remedial massage therapists is loud and clear.
"How do we practice to our potential (work to full capacity so we can make a decent living from the career we love), without burning out?"
For this reason we have created this course in "Therapist Care and Conditioning", to assist you in developing the key physical conditioning you need to get the most out of your career. The course commences with assessments to determine your current state of physical conditioning. This is followed by demonstrations of the exercises that will allow you to develop your conditioning to an appropriate level.
Ailments such as fatigue, chronic back pain, stress and neural symptoms are common amongst manual therapists. Maybe you've experienced some of these? Have you considered the long term cost and the impact both physically and mentally? What would happen if you couldn't continue to practice due to a chronic work related illness?
Don't allow your career to be cut short by physical ailments triggered by a lack of condition and technique flaws. Therapist Care and Conditioning 1 – An Introduction To Physical Conditioning gives valuable insight into the basics of physical conditioning and endurance exercises to build strength in the areas where you need it the most. Start the course today and set yourself up for a long and enjoyable career!
Course Topics Outline
Posture – We'll introduce you to the correct standing and treating postures. Learn how to integrate these into your treatments.
Lumbar – All about Core Stabilisation. Get strong with exercises such as crunches and the bird dog hip extension.
Shoulder – You will continue the strength building with push up, plank and kneeling exercises all in the context of performing treatments.
Course length/study time: 5 hours – Approximately 3 hours or course content and 2 hours of recommended practice and additional resources.
Your presenter/s: Aran Bright, B. Health Science (Musculoskeletal Therapy), Adv Dip. Myotherapy, Dip. Remedial Massage, Grad Cert Sports Coaching
Benefits of eLearning (Online Study)
Study anywhere, anytime – Take the course at your own pace when and where it suits you.
Cost effective – We're 100% online and therefore don't have the overheads that other training providers do. In comparison, our short course costs are extremely attractive.
Immediate results – If you're keen to upskill now, sign up, login and get learning today.
Optimised for mobile devices – Our website is optimised for use on mobile devices including tablets and smart phones.
No filler – We cut to the chase and provide only what you need to know.
Lifetime access* – Once you've completed the course you will have ongoing access to refer back, if and when you need a refresher.
When: Study anytime – You can commence the course as soon as you are ready. Start learning right now!
Where: Our CPE short courses are 100% online so you can study in your own home, or wherever you have internet access using your desktop computer, tablet or smartphone. We're mobile optimised at Bright Health Training.
Collaboration opportunities: At Bright Health Training we know learning isn't a one way street, so we're all about collaboration and community. Join in lesson specific discussion threads and ask any questions you have. You might even want to share your knowledge and experience with your fellow course participants through these discussion opportunities.
Assessment: At the conclusion of each topic you'll step through a quick multiple choice/short answer quiz. Relax, quizzes are short, 'open book' and no pressure.
Access: Unlimited access for the lifetime of the course*.
CPE Has Never Been Easier – Join Bright Health Training Online!
Upskilling through CPE isn't simply limited to what you can learn for the benefit of your clients. Therapist Care and Conditioning 1 – An Introduction to Physical Conditioning is an opportunity to take some time out for yourself. We figure happier, healthier therapists = happier, healthier clients.
Our 'No Risk Guarantee' = Peace of Mind

Our 'No Risk Guarantee' to you: We're 100% confident in the quality of our courses. If for any reason you aren't satisfied with the short course, we'll happily refund what you paid for the course. That's right a %100 money back guarantee. Simply let us know within 7 days of purchase. Some other conditions apply.
* Lifetime Access – as per the terms of use of www.brighthealthtraining.com.au. Read more here.
---