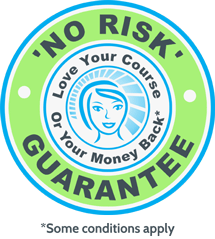 Why do we offer a 'No Risk Guarantee' at Bright Health Training? It's simple really…
We are 100% confident in the quality, accuracy and relevance of our courses. Our courses are researched, written and presented by industry professionals who have many years experience practicing and teaching in their respective disciplines. The content is engaging, the topics are interesting and informative. We expect you'll enjoy learning with them as much as we did creating them. Further to that, we apply strict quality control to the production process to ensure that the quality of our multimedia is at the forefront of the industry.

We understand what you want as a customer. No one likes to lose, right? However, making decisions to purchase online can be risky, particularly if you're not sure about the quality of what you're buying. Yes, we are the new kids on the block in CPE online education, but we are the real deal and our guarantee is all the reassurance you need to be comfortable purchasing access to a Bright Health Training course.
So, if you don't love your course, advise us by email or the Contact Us page form within 7 days of the purchase date and we'll organise a refund for you.
Full terms and conditions can be found in our Terms of Service.