Last weekend (May 24-25, 2014) the AAMT National Conference was held in Brisbane. For anyone who has never been to one of these conferences before, you are missing out. AAMT Conference 2014 was simply amazing. Whether you are a member of AAMT (Australian Association of Massage Therapists) or not, being able to sit, talk, practice and learn with fellow massage therapists is a fantastic experience and one not to be missed. I highly recommend attending the AAMT Conference.
For those that didn't make it this year, you can read all about what you missed in this review of the conference and some of the hot topics for remedial therapists in 2014.
It's all about Massage!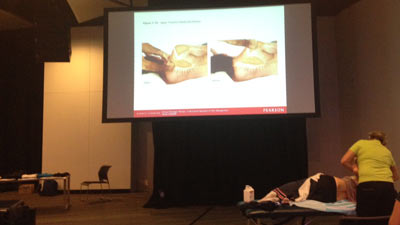 So first, I must confess that I am not an AAMT member. I have been a member with ANTA, the Australian Natural Therapists Association for over ten years now. However, there is one thing the AAMT conference will always have going for it, everyone there has massage in common.  No other natural therapies, just a conference specialising in massage therapy! This creates a fantastic sense of comradery. What a buzz when you know that everyone you meet is on the same page. Not surprisingly, a conference full of friendly, caring people is a really great place to be.
The hot topics
Across the course of the conference, there were many speakers and presenters covering a diverse range of topics. The following is my top 5 – some of the bigger issues facing our industry right now;
1. Ethical Business
Jeff Shearer, apart from being a massage therapist and an acupuncturist, runs his business known as Ethical Practice. It is based around promoting yourself as therapist in an ethical and effective way. For so many of us, we feel that these two topics are incompatible, believing that by promoting our business we are being unethical. The reality cannot be further than the truth – massage therapists in my experience are probably some of the most ethical professionals out there. How on earth could promoting an ethical industry or your own business be a bad thing? Visit Jeff's site by at ethicalpractice.net for more information on how to "build your practice through your own vision".
2. Research into Massage Therapy in Australia
Professor Jon Adams presented information about ARCCIM, the Australian Research Center for Complementary and Integrative Medicine. ARCCIM may be the single most valuable project undertaken in complementary health in Australia, ever. The number of people using complementary health and massage within Australia is staggering, but very little research has been done in the area to show exactly how Australians use complementary health services such as massage. Jon and his team have undertaken the massive task of better understanding and supporting complementary health in Australia through research.
If you are a therapist and you want to be a part of this project, you can become a member of the practitioner network, which will be an integral part of research projects in the future. If you want to know more visit the site via the link above or email arccim@uts.edu.au.
3. Branding for Massage Therapists
Have you ever considered developing your brand as a massage therapist? Those who do spend the time developing their branding have a much better chance of standing out amongst the competition. Being able to inform your current and future clients, who you are and what you do is essential if you want to grow your business. And you would be amazed how simple it is. One of the awesome inside tips Peter Harris shared during his presentation is that you can get logos and design done for as little as $50 from freelancer sites such as 99designs.com.au,. For more information on branding and digital marketing, check out  LT Network or Australian Massage Directory.
4. Massage for Elite Sports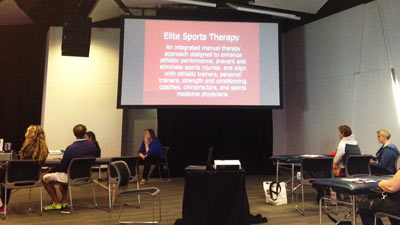 My highlight of the conference, and certainly the one that everyone was talking about, was James Waslaski's workshops on orthopedic massage therapy. James presented two excellent workshops, one looking at complicated lower extremity conditions and another on working with the superficial front line in Elite sports. His workshops presented the latest in myofascial and massage techniques to achieve soft tissue mobility and restoration of function. His techniques for release of the superficial front line really showed the importance of good assessment and not just treating areas of discomfort, but also treating the cause postural imbalance. It was a real pleasure watching such a knowledgeable and charismatic presenter. For more information visit James Waslaski Orthopedic Massage.
5. Working within a Medical Model for Cancer Patients
The final hot topic was covered in the workshop presented by Kate Butler, a therapist and trainer in Oncology Massage. Oncology Massage represents one of the developing areas of specialisation for massage therapists. It is one of the most researched and evidenced based areas of massage with excellent results demonstrated in clinical research, showing that cancer patients show significant improvements in feelings of anxiety and depression when having massage during and after cancer treatment.
For many people going through cancer, massage is a critical component to treatment. It's one of the few times when they can experience something that makes them feel "normal". Not only can massage assist with the physical side effects of cancer treatment such as lymphedema and pain, it also is time spent doing something completely normal and can give cancer sufferers a break from the painful reality of their situation.
If you have ever considered working in this area, visit www.s4om.org, to find out more information about this challenging yet rewarding specialty area.
And what a Dinner!
Finally, it would be crazy to not mention the gala dinner. Not just a delicious meal, it was an excellent crowd of people. Everyone so friendly, warm and keen to chat about what they do. The spirit and joy everyone shared in celebrating their profession was amazing! It has to be noted that the ability of therapists to let loose on the dance floor is something we should be extremely proud of, what a sight!
Do it in 2015!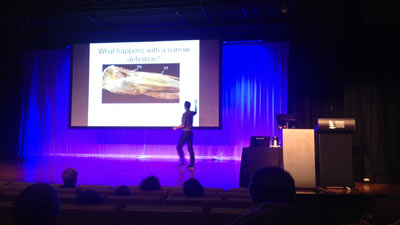 The team at AAMT did a fantastic job and should be very proud of what they brought to Brisbane in 2014. Next year AAMT will be holding the conference in Perth, and whilst it is a long way from the east coast of Australia, I for one have already started saving. If you missed out this year, I encourage you to start saving too!